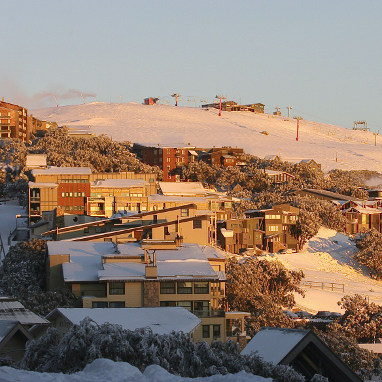 Mt Buller General Information
The ski season at Mt Buller officially runs from the Queens Birthday weekend in June (12 June 2010) until the end of September/early October dependant on snow conditions. Please contact Mt Buller Resort Management on 03 5777 6077 or  info@mtbuller.com.au if you are planning to head to Mt Buller in the last couple of weeks to ensure the Resort is still operating for skiing and snowboarding.
Apres Ski
The Mt Buller Village is situated picturesquely at the heart of the mountain, offering ski in, ski out accommodation and a huge range of bars and restaurants. With a wide range of accommodation to suit all tastes and budgets, there is something to cater for all needs. Over 30 bars and restaurants provide a range of delectable treats, from quick snacks to fine dining and a choice of nightlife options.
Entry to Mt Buller
Throughout winter you must pay an entry fee to access Mt Buller as you pass through the gates at Mirimbah. The single payment covers entry to both Mt Buller and the neighboring Mt Stirling, providing you with an easy way to see each mountain.
Resort entry fees contribute significantly to the costs of providing the wide range of services and facilities provided by the Mt Buller and Mt Stirling Alpine Resort Management Board.
These include: environmental management, snow clearing (Mt Buller Road from Mirimbah to the Village), car parking, day shelters and public toilets, water for snowmaking, slope management, toboggan runs, water for domestic and commercial use, sewerage treatment works, visitor information, road, snow and weather reports, shuttle buses (from the car parks and around the Village), garbage collection and recycling, Resort administration, Village signage, and Mt Stirling snow clearing, ski patrol and trail maintenance.
Once you have parked your car, you can either jump on a free shuttle bus (for day visitors) that will take you up into the Village centre or take a 4WD taxi (for people staying overnight or those with luggage) which will take you to your accommodation. Please click here for details of 4WD taxi fares.